India is home to world's fourth highest number of billionaires with Reliance Industries chief Mukesh Ambani leading the club of more than 100 super-rich Indians, according to a new list released by Forbes magazine.
Along with this, Forbes has this time also released the list of top youngest Indian entrepreneurs.
Have a look:
Vijay Shekhar Sharma- 39
Real Time Net Worth- $1.37 B
Vijay Shekhar Sharma founded the fast-growing payments bank, mobile wallet and e-Commerce business Paytm. Sharma is the son of a schoolteacher and is a first generation entrepreneur. He founded One97 Communication in 2011 with offering the Paytm (an acronym for Pay Through Mobile) mobile wallet business. Sharma's Paytm had slowly built its own footing as one of the more used mobile wallets in the country. However, the sharp rise in the customer base and daily transactions was truly seen after demonetisation–Paytm was one of the most widely accepted wallet payment channels at retail outlets and hence was accepted for daily use by people even after the cash crunch subsided.
Paytm now has a customer base of at least 200 million registered users and it does anywhere around five million transactions each day. Paytm has also received the licence for a payments bank as part of Sharma's larger plans to develop his e-commerce business as a separate entity. The company's stocks have risen impressively over the past year and the nearly 20 percent stake Sharma holds in the over $6 billion worth company makes him the youngest Indian billionaire on the Forbes List of Billionaires.
Shamsheer Vayalil- 40
Real Time Net Worth- $1.57 B
Shamsheer Vayalil was born into a business family in Kerala and made his fortune in the healthcare industry. He migrated to the Middle East soon after completing his medical education and started work as a radiologist at a local hospital. Son-in-law of MA Yusuff Ali, billionaire retail giant in the Gulf, Vayalil founded VPS Healthcare, a chain of hospitals, medical clinics and pharmacies in India and the UAE.
With the financial support of Ali, Vayalil started out with his first hospital in Abu Dhabi in 2007. Last year, VPS, as part of its expansion plans in India, acquired Rockland Hospital chain in Delhi. The group also acquired Kochi's Lakeshore Hospital. VPS is making investments in Azerbaijan to bring up a pharmaceutical plant too. Vayalil is a marathon runner and fitness enthusiast.
Sameer Gehlaut- 43
Real Time Net Worth- $3.1 B
Sameer Gehlaut is known as a giant in the housing finance space and his Indiabulls Housing Finance is the second largest mortgage lender in India, only behind HDFC. Gehlaut is an engineer by training and has studied from Indian Institute of Technology, Delhi. He started with Indiabulls online brokerage in 1999 with two of his college friends. With steel baron Lakshmi Mittal and hedge fund Farallon Capital as early investors, he started the business and the company went public in 2004. He then moved into real estate and is also building a luxury hotel in London's posh Mayfair area. Gehlaut is a jet-setter and owns his own Global 5000 luxury business jet.
Ranjan Pai- 44
Real Time Net Worth- $1.91 B
Ranjan Pai is a medical doctor trained at Kasturba medical college and has built up an education and healthcare empire with the Manipal Education and Medical Group International India which runs two colleges in India, one each in Malaysia, Antigua, Dubai and Nepal, 16 hospitals and has two more coming up in the national Capital. He co-founded MEMG and serves as the CEO and managing director of the company. Pai's grandfather started the business in 1953 in Manipal, Karnataka–India's first private medical school. Pai's father took charge of the business after a family split in 1978. Pai resigned from his job as a doctor in the US and returned to India to help his father in the family business.
Pai is Co-Founder, Partner, and Managing Partner of Aarin Capital and a Partner of The Habit Fund. Pai has a diversified portfolio but notable amongst them is his role as a venture capitalist. He backs Saha, a VC fund for women entrepreneurs and an accommodation marketplace Stayology.
Acharya Balkrishna- 45
Real Time Net Worth- $6.5 B
Acharya Balkrishna is the man behind FMCG giant Patanjali Ayurved which he co-founded with yoga guru Baba Ramdev in 2006 with the latter as the ideological driver and brand ambassador. According to Forbes, Balkrishna has a 97 percent holding in Patanjali Ayurved. The company draws annual revenue estimated to be over $780 million. Balkrishna transformed Patanjali Ayurveda into one of the frontrunners in the FMCG space and in under a decade, it ate massively into the market share of leading brands like Dabur, Amul, ITC, Hindustan Unilever etc. Balkrishna also looks after the over 5,000 Patanjali ayurvedic clinics, the Patanjali University, Patanjali schools, yoga and Ayurveda research institute etc. The group claims that the profits from the sales go to charity and various trusts.
Nirav Modi- 46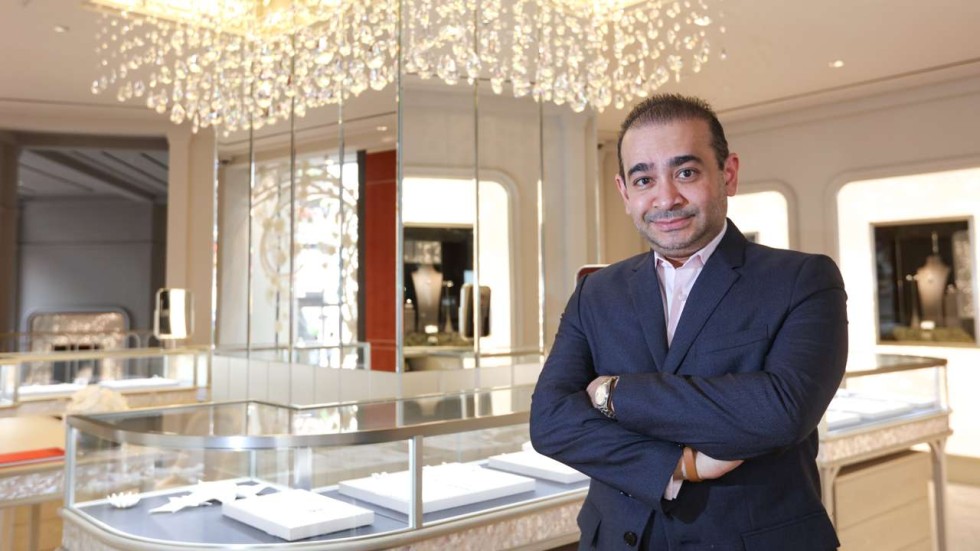 Real Time Net Worth- $1.88 B
Diamond jewellery designer founded the jewellery brand Firestar Diamond and has a booming retail business across top cities of the world. His presence in the retail market has expanded hugely in recent years and he has stores in Delhi, Mumbai, New York, London, Hong Kong, Macau etc. Modi says that at least 10 more stores are in the pipeline and he has roped in the star power to boost his diamond business by appointing actor Priyanka Chopra as the brand ambassador.
Modi was born into a Gujarati family in India but he grew up in Belgium, the centre of the international refined diamond trade. He went to Wharton but dropped out before moving to India to train in the diamond trade under his uncle. Years later, he opened Nirav Modi jewellery brand. He is known to have uber-rich clients in the international market but in January this year, the US federal tax authorities initiated a probe into his business over alleged irregularities. He has claimed to have been in absolute compliance with the law.
Arvind Tiku- 47
Real Time Net Worth- $1.98 B
Arvind Tiku was born in India and is a resident of Singapore. He made a fortune out of the oil and gas, property and renewable energy industries and holds interests through his privately held AT Holdings. He was 18 when he moved from India to Russia to study mechanical engineering and then went on to work as a commodities trader. He then entered the oil and gas business in Kazakhstan. Tiku is a stakeholder in the London-based Nostrum Oil & Gas with others like steel baron Lakshmi Mittal and Timur Kulibayev–the son-in-law of Kazakhstan President Nursultan Nazarbayev.
Vikas Oberoi- 47
Real Time Net Worth- $1.97 B
Real Estate tycoon Vikas Oberoi made a comeback to the Forbes' Billionaires list after a promising year. He is not related to the family which runs the Oberoi hotel chain. However, he has entered the hospitality industry on a large scale. His Oberoi Realty focuses mostly on the Mumbai market
Indian property magnate Vikas Oberoi, who counts Morgan Stanley as an early backer of his Mumbai-focused Oberoi Realty, returns to the Forbes billionaire ranks after dropping off last year, on share gains and new information on his private assets. The group owns suburban Mumbai's Westin Hotel and it is developing Mumbai's first Ritz-Carlton hotel and residences which is slated to open in 2018.
Kumar Birla- 50
Real Time Net Worth- $12.7 B
Kumar Birla is renowned as the Commodities king in India and is the chairman of the Aditya Birla Group. Birla sits on the top of one of the most well known brands in the country to the extent that Birla has become synonymous with wealth. The group draws revenues of around $41 billion and Birla has been restructuring the business over the past year with a string of mergers, demergers and acquisitions. Last year, Kumar Birla led the merger of Aditya Birla Nuvo with Grasim Industries and the demerger of the financial services arm as a separate firm. One of the monumental deals of the year was the Birla driven merger of his telecom company Idea Cellular and Vodafone India. The company became the largest telecom business in India positioning themselves to go up against Mukesh Ambani's Reliance Jio.
Jitendra Virwani- 51
Real Time Net Worth- $2.2 B
Jitendra Virwani's Embassy Group is the biggest real estate developer in Bengaluru. The group is developing an array of office parks and commercial properties with private equity giants Blackstone and Warburg Pincus as partners and several international clients like Wells Fargo, Yahoo, Burberry etc. Virwani is also a horse enthusiast and also owns a horse riding school.