The U in U-shaped recovery was looking slightly deeper and more drawn out than the investors had anticipated a few quarters ago. But the turnaround in the network business is back on track, even if a bit behind original schedule. This is the key takeaway from Nokia's (NOK) encouraging 4Q17 earnings report released in the early hours of Thursday. On the surface, the numbers impressed.
Revenues of €6.67 billion were about flat YOY and nearly €300 million better than consensus for Nokia
The growth rate would have been an unusually healthy 5% if not for currency headwinds. However, and not unlike past quarters, top-line strength was supported by €210 million in non-recurring licensing agreements that, although one-off in nature, have become somewhat of a norm in the recent past. Non-IFRS EPS of €0.13 landed ahead of Street's average estimates by €0.03, on the back of improving op margins and a heavier mix of technologies-related sales.
See the key metrics illustrated below: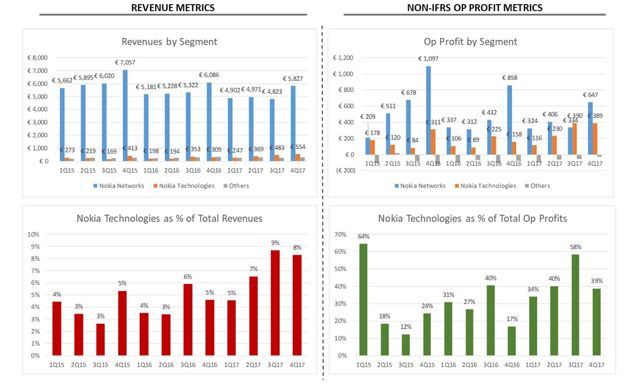 Although Nokia's op profit diversification is likeable into patent licensing and tech devices – on average about one-third of total company's profits – investors' moods tend to be impacted most by the performance of the company's much larger (in revenue terms) network equipment segment.
Last quarter, Nokia gave everyone a scare by rolling back on its optimism and projecting that the mobile networks market would fall 4-5% in 2017 and again up to 5% in 2018.
Within this less-than-ideal context, seeing the Finnish company's networks division post 2% net sales growth ex-FX in 4Q17 was certainly a relief.
Not only that, but the management team has also narrowed its projection for total market's decline in networks revenues in 2018: no more than 4% down, and maybe as little as 2%.
And that does not seem to include much upside from 5G rollouts, which will likely increase clients' capital spending and fuel the final leg of Nokia's U-shaped comeback in 2019 and 2020.
Nokia has been a very interesting story over the past 12-18 months. Investors finally bullish on the stock in November 2016 when shares dropped to an unjustifiable (now near-five-year low) $4.30, given my 3-5 year expectations for much more solid financial performance as the incoming 4.5G-to-5G upgrade cycle slowly approached.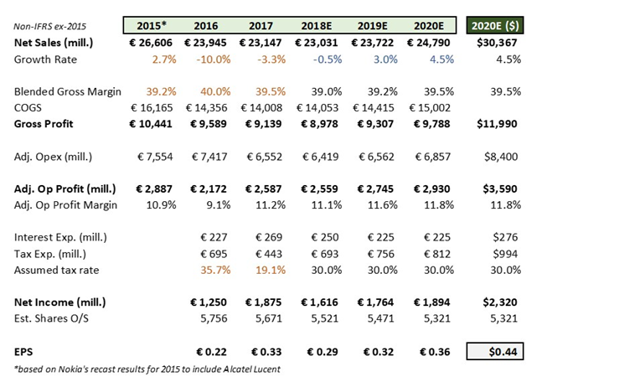 However, it is good to see the runway clear for NOK to climb further, even after Thursday's double-digit stock price bump. The question of whether Nokia will get to 2020 on much better footing has become less of concern.
And if management's prevailing standpoint proves accurate, it is unpropitious that the stock will be bartering lower than my current target price of $7.50/ADR within the next 36 months, suggesting about 15% year-long upside including dividends.